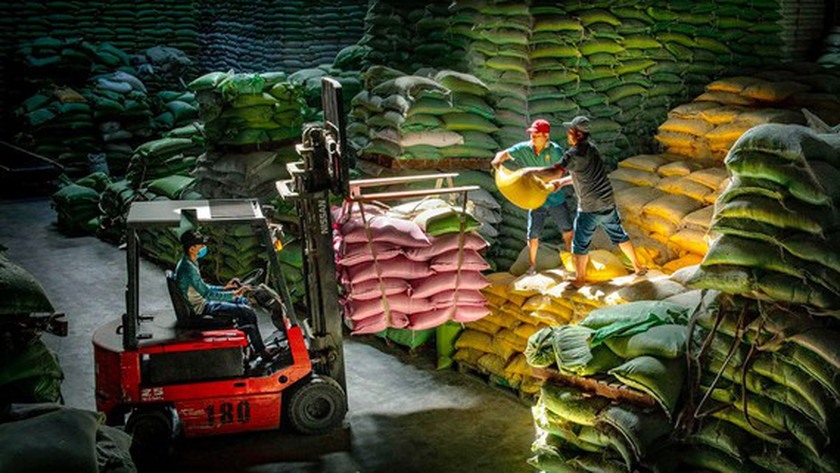 Vietnam has seen a steep increase in exports to members of the Comprehensive and Progressive Agreement for Trans-Pacific Partnership (CPTPP) despite global economic uncertainties.
Vietnam's exports to CPTPP members in the first seven months expanded 21.43% over the same period to nearly US$31.5 billion, accounting for 14.48% of the country's total exports.
According to the Ministry of Industry and Trade, since the CPTPP took effect in January 2019, Vietnam has seen exports to these markets soaring.
The member markets that imported strongly from Vietnam in 2021 included Singapore, Malaysia, Japan, Australia, Canada, Mexico and Chile.
Japan was the largest export market of Vietnam in the period with a value of US$13.44 billion, up 13.39% year on year, followed by Canada with US$3.87 billion, up nearly 32.2%, and Malaysia with US$3.46 billion, up 4.26%.
US chip giant assists Vietnam in training workforce
The US-based electronic design automation (EDA) company Synopsys will assist Vietnam in developing human resources in chip design, as part of a deal signed with the Management Board of Saigon Hi-Tech Park (SHTP) in Ho Chi Minh City on August 26.
Accordingly, Synopsys will help the SHTP Management Board set up a chip design centre via a software sponsorship programme to nurture chip design talents and develop semiconductor industry in Vietnam.
It will also provide a software curricula for universities and a lecturer training programme for the SHTP Management Board.
The SHTP Management Board will invest in IT infrastructure for the establishment of the centre.
HDBank in compulsory takeover of weak bank mandated by Govt
     
For its rich experience in successful restructuring of credit institutions and pioneering spirit, HDBank has been chosen to participate in the compulsory sale of weak credit institutions.
HDBank's shareholders have voted in large numbers in favour of all the proposals made by the board of directors, including participation in the restructuring of a credit institution in the form of compulsory sale of a specially-controlled joint stock commercial bank, which received approval from 81.52 per cent of voting shareholders.
According to the proposal, the participation in the restructuring of a credit institution aims to "implement the direction of the Government and the State Bank of Viet Nam on restructuring the system of credit institutions, contributing to the healthy and stable development of the banking system and economy, besides creating opportunities to bring benefits and added value to HDBank and its shareholders."
Addressing the bank's investor conference recently, Pham Quoc Thanh, the bank's CEO, said: "Not many credit institutions have been selected by authorities to participate in this programme. This reflects their trust in HDBank's capacity and experience in successfully restructuring financial institutions, and their appreciation for the restructuring plan HDBank has prepared for this mission."
In the banking industry, HDBank is known for successfully implementing two mega acquisitions, one involving merger of a joint stock bank and the other, acquisition of a financial company.
In 2013 HDBank merged with Dai A Bank and completed the process of connecting and merging their information technology systems in a record time of four months while also ensuring safe and smooth transactions for all customers, and creating a better earning and working environment for employees.
Also in 2013 HDBank became the first domestic financial institution to acquire a fully foreign-owned financial institution, Societe Viet Finance, a subsidiary of France's Societe Generale banking group, the predecessor of HD SAISON Financial Co. Ltd.
These ushered in a decade of high and sustained growth for HDBank, bringing great value to its customers, shareholders, partners, and employees.
Banks to issue billions of shares to pay dividends for the rest of 2022
     
Many banks are completing final procedures to issue billions of shares to pay dividends in the remaining months of this year.
After the State Bank of Vietnam (SBV) approved VPBank to increase charter capital in the form of share issuance from the equity source, the bank will issue a maximum of 2.23 billion shares at the rate of 50 per cent to increase its charter capital from VND45.05 trillion to VND67.43 trillion in the third quarter of 2022.
Previously, Military Bank (MB) announced to close the list of existing shareholders for the share dividend payment on August 23 this year. With more than 3.77 billion outstanding shares, MB is expected to issue an addition of 755.6 million new shares, thereby raising charter capital from the current VND37.7 trillion at present to nearly VND45.34 trillion.
SHB is also expected to issue more than 400 million shares to pay last year's dividends to shareholders, equivalent to a rate of 15 per cent, in Q3 2022 after submitting to the SBV its charter capital increase plan.
In the first half of August, the SBV approved HDBank to increase charter capital from VND20.27 trillion to VND25.5 trillion by issuing more than 503 million shares to pay dividends in 2021. The additional capital will be taken from the undistributed after-tax profit until the end of 2021.
Meanwhile, MSB said it has submitted to the SBV a charter capital increase plan and is waiting for the SBV's approval. Accordingly, the bank plans to issue 458.25 million bonus shares to existing shareholders at the rate of 30 per cent and a maximum of 14.25 million ESOP shares.
After eight years of waiting, Eximbank's shareholders will also receive dividends from the profits retained from 2017 to 2021. Specifically, the bank plans to issue nearly 245.9 million shares to pay dividends at the rate of 20 per cent in Q3 2022.
Many other private joint stock banks also have plans to issue hundreds of million shares to pay dividends this year such as OCB with the rate of 30 per cent, NamABank with 29 per cent, VietBank with 21 per cent, Kienlongbank with 16 per cent, VietCapitalBank with 15 per cent, LienVietPostBank with 15 per cent, SeABank with 12.7 per cent, VietABank with 11 per cent and ABBank with 10 per cent.
The SBV has so far approved charter capital plans of banks such as NamABank, Kienlongbank, VietBank, VietCapitalBank and OCB.
For the group of State-owned banks including Vietcombank, VietinBank and BIDV, though information has not been published, these banks all expect to pay dividends in shares this year.
Transport Ministry needs to disburse VND28 trillion by end-2022
The Ministry of Transport needs to disburse the remaining VND28 trillion in public investment, equal to 56.7%, in the rest of the year to fully meet the year's target set by the prime minister.
As of this month, projects under the ministry's management are expected to have received around VND22.1 trillion, reaching nearly 44% of the target assigned by the Government leader, according to data released at a regular meeting of the ministry today, August 26, reported the local media.
Though its estimated public capital disbursement rate by August is higher than the average at other ministries and agencies (32.36%) and that of the country (39.15%), the Transport Ministry admitted that its disbursements were slower than the plan investors had registered before by some VND2.1 trillion, and lower than the rate of 52% in the year-ago period.
In 2022, the Government allocated to the Transport Ministry VND50.328 trillion for public investment projects, comprising VND4.877 trillion of foreign capital and VND45.451 trillion of domestic capital.
To date, the ministry has allocated VND45.34 trillion to project investors and management units, meeting 90.1% of the target.
For the remaining VND5 trillion, the ministry plans to allocate it to 12 components of the North-South Expressway project, according to data from the ministry's Planning and Investment Department.
Mekong Delta provinces see apartment boom
     
Many provinces in the Mekong Delta are seeing an uptick in new apartment projects, facilitated by a rise in housing demand and traffic infrastructure development.
The city of Can Tho currently has 10 apartment projects, the most among Mekong Delta provinces.
They are mostly social housing projects, while the rest are low- to medium-income apartments. Their prices vary from VND900 million (US$38,504) to around VND2 billion.
According to the city's Department of Construction, there is a luxury apartment project under construction, and two more are set to be built.
New apartments are expected to account for around 30 per cent of new real estate supply in Can Tho's market for the last half of the year.
Nguyen Huu Nghia, deputy director of Hau Giang Department of Construction, said that the province has a 300-apartment project priced at up to VND700 million per apartment, which is very suitable for local labourers and state workers.
Other Mekong Delta provinces such as Tien Giang and An Giang are seeing more affordable apartment and social housing projects in recent years.
New apartments tend to be filled up relatively quickly, with some locals even selling their houses to live in new apartments that are built near schools and hospitals.
Hue, FPT agree to boost digital transformation
     
Authorities of the central province of Thua Thien-Hue and software giant FPT Group have agreed on a digital transformation cooperation deal to turn Hue City into a 'smart' urban area by 2025.
The province said that the two partners would promote digital transformation in three key pillars of society, economy and e-Government, as well as boost smart healthcare and cashless trade service in Hue.
The two sides will also foster the already-launched Hue-S online application in community healthcare by setting up a 'smart and cashless' service in the city's hospital system while promoting an AI Chatbot and AI Voicebot for a more convenient health examination service.
The digital transformation deal will help introduce the shared-use Picture Archiving and Communications System (PACS) in health care networks among hospitals and health centres in Hue, districts and communes, and paperless hospitals.
FPT will also provide training courses on digitalisation for staff of public agencies, businesses and the local community in boosting the digital transformation process throughout the province.
Businesses hungry for capital while banks exhaust credit quotas
The country's economy is recovering positively after the Covid-19 pandemic, making the capital demand for production and business increase. However, businesses are hungry for capital while banks exhaust credit quotas.
As of August 15, the economy's credit reached over VND 11.45 million billion, up 9.62 percent, much higher than the same period in 2021 at 6.68 percent. Meanwhile, by the end of June 2022, credit growth increased by 9.35 percent. Thus, within the past 1.5 months, credit increased very slowly at only 0.27 percent showing that commercial banks' credit room is exhausted.
Many commercial banks said that they had to manage to lend themselves in the remaining credit space, so they could not promote credit growth even though businesses' demand for capital is huge. Some commercial banks have to buy back corporate bonds and issue debt recovery collections to be able to lend.
However, with the remaining credit room, commercial banks have to consider more carefully, only considering short-term loans with consumer loans from 1-3 months. That is also the reason why many businesses are currently finding it difficult to access bank capital.
The State Bank explained the slow implementation of the policy that commercial banks are difficult in determining those who are eligible for the support package with preferential interest rate. Many production and business households do not register as business households, so they are not eligible for support.
Many businesses, especially small and medium-sized enterprises, say that it is difficult to access the interest rate support loan package because banks require new loans to repay old debts and have collateral. But in the past two years of the epidemic, most businesses have their property mortgaged at banks, and no more assets for new loans.
Meanwhile, explaining to businesses, many commercial banks said that because this is a support package from the budget, the appraisal and approval of documents require carefulness to ensure that the capital flows to the right businesses. However, many commercial banks also unearthed that they have not had a credit room.
According to many experts, the potential for credit growth is still quite large with about 4.42 percent, equivalent to nearly VND 500,000 billion in the last four months of the year. Therefore, the State Bank should soon adjust the credit room for banks; otherwise, it will delay the bank's lending capacity. As a result, not only do commercial banks have difficulty in doing business, but the production and business activities of enterprises are equally difficult.
Without loosening the room, the interest rate support can only be applied to old loans, production and business activities will continue to face difficulties and will not create new motivations for enterprises.
Dong Nai proposes lengthening Ben Thanh-Suoi Tien metro line to Bien Hoa IP
Dong Nai Province has proposed extending HCMC's Ben Thanh-Suoi Tien metro line to the Bien Hoa 1 Industrial Park in the province's Bien Hoa City.
The provincial Department of Transport on August 24 sent the proposal to the Dong Nai government, prompting the latter to propose the prime minister approve of a plan to lengthen the metro line to the industrial park in An Binh Ward.
Under a decision signed on April 8, 2013, by the prime minister, HCMC's first metro line will be lengthened from the Suoi Tien Theme Park station to the Sat Market intersection in Tan Bien Ward, Bien Hoa City, along National Highway 1.
If the proposal is approved, the link between the Ben Thanh-Suoi Tien metro line and the Bien Hoa 1 Industrial Park will facilitate traffic in the province, according to the Dong Nai Department of Transport.
The industrial park, which covers over 300 hectares, is being converted into a commerce-service-urban complex, the local media reported.
Thai Vietjet to launch direct service linking Phu Quoc with Bangkok
Thai Vietjet Air, a subsidiary of Vietnam's low-cost carrier Vietjet Air, will start service on a route connecting Phu Quoc Island, which is off the Mekong Delta province of Kien Giang, with the Thai capital city of Bangkok from October 12.
The carrier will operate four weekly flights on Mondays, Wednesdays, Fridays and Sundays on the new route, with a flight time of one hour and 15 minutes.
The budget carrier currently offers services between Vietnam and Thailand on the Bangkok-Hanoi/HCMC/Danang and the HCMC-Phuket routes.
On September 1, Vietjet will resume services on the HCMC-Chiang Mai route.
Until now, Thai Vietjet has expanded its flight network to many international destinations in Asia such as Fukuoka in Japan, Taipei in Taiwan and Ahmedabad in India to serve the growing travel demand.
ACV seeks to expand terminal at Con Dao airport
The Airports Corporation of Vietnam (ACV) has proposed the Ministry of Transport expand the existing passenger terminal of the Con Dao airport instead of building another one, to raise the airport's capacity to two million passengers per year.
The passenger terminal, with a designed capacity of 400,000 passengers a year, is expected to serve some one million passengers this year, while the airport has four aprons to receive ATR72 aircraft or equivalents.
ACV is focusing on the Long Thanh international airport project in Dong Nai Province and some projects to upgrade the key airports, leading to a limited capital source. As such, ACV proposed utilizing the current infrastructure to save investment capital.
Under its proposal, the terminal will be widened to over 6,000 square meters to serve 800 passengers per rush hour. After the expansion, the airport can serve two million passengers per year until 2030. When the number of passengers surges, a plan to build a new passenger terminal will begin. Meanwhile, the current terminal will be converted into a cargo one.
The terminal expansion project will cost over VND388 billion and be executed in 24 months, the local media reported.
In 2021, the Ministry of Transport approved raising the capacity of the Con Dao airport to two million passengers per year by 2030, as part of the Con Dao airport upgrade project, which will cost over VND3.7 trillion.
Ben Thanh-Suoi Tien metro extension proposed
The southern province of Dong Nai's Department of Transport has proposed extending the Ben Thanh-Suoi Tien metro project to Bien Hoa 1 Industrial Park.
Under the prime minister's decision issued earlier, Ben Thanh-Suoi Tien metro runs from Suoi Tien Station to Cho Sat junction of Dong Nai's Bien Hoa City.
 
According to the Dong Nai Department of Transport, Bien Hoa 1 Industrial Park, located in a 300-hectare area in An Hoa Ward of Bien Hoa City, has been planned to be turned into an urban-commercial-service area. So, if Ben Thanh-Suoi Tien metro line, running parallel with National Highway 1, is extended to have a main train station situated at Bien Hoa 1 Industrial Park, it will be much easier to connect to central Bien Hoa City and the whole province.
The VND43.7 trillion Ben Than-Suoi Tien is HCM City's first metro project. The route would have three underground and 11 elevated stations. It is expected to be put into operation in 2023.
Vietnam paving way for strong global trade
All the bi-lateral and multi-lateral Free Trade Agreements (FTAs), along with the Regional Comprehensive Economic Partnership (RCEP) which came into effect on 1 January 2022, have helped in opening up the Vietnamese market to the world. 
The Comprehensive and Progressive Agreement for Trans-Pacific Partnership (CPTPP) has increased the export of goods from Vietnam to several vital member markets. Despite the US pulling out of TPP, exports from Vietnam to the US are still encouraging, and the US is still the number one export market for Vietnam. Currently, Vietnam is the largest trading partner within ASEAN in the European Union (EU) in just two years of implementation of the Vietnam-EU FTA (EVFTA). Soon after the U.K. left the EU, the Vietnam-UK FTA (UKVFTA) was signed and trade between the two countries has kept growing. In only five months after the implementation of the Regional Comprehensive Economic Partnership (RCEP) agreement, rice exports to RCEP markets are about to reach USD 1 bln, out of a total of USD 1.35 bln for rice exports.
The implementation of FTAs has created a new wave that has attracted more Foreign Direct Investment (FDI) and has caused a shift of investment into Vietnam, which has helped in promoting administrative reforms and also lending support to the process of renewing growth and restructuring of the economy. These successes have shown that along with expanding relations with other economies, the promotion and selective implementation of FTAs, especially new-generation FTAs, is correct and timely in the integration process.
Vietnam is directing exports towards FDI enterprises, because this sector is growing faster and increasingly overwhelming the domestic sector by the proportion of the total export turnover of the country. Vietnam has had a trade surplus for six consecutive years, from 2016 until 2021, which is likely to extend into this year as well. However, this surplus belongs to the FDI sector and Vietnamese enterprises are in deficit. Vietnam has great potential for agricultural and aquatic products but compared to the world market these products lack consistency in quality. Technological goods depend heavily on imported raw materials and production is dependent on availability, hence quantity, quality, and delivery are subjective.
The opening of FTAs has created favorable conditions for imports. In order to take advantage of incentives for imported Vietnamese goods, foreign retail groups are racing to open supermarkets. Right now, foreign goods are flooding cities and even the countryside stores. For instance, there is a bi-lateral and multi-lateral FTA with South Korea, but imports from South Korea dominate the markets. In the ASEAN economic community (AEC), trade deficit from ASEAN is still high with the mainstream in Thailand, while with RCEP, the trade deficit from China is getting bigger and bigger by the day.
All FTA partners, including markets that Vietnam once considered easy, have shifted to consuming green, clean goods and meeting high labor and environmental standards. This is to say, that now it is not just about prices. Quality is also of much concern in the production process. Along with tax incentives, there are a set of technical requirements such as quarantine for animals and plants under strict standards. However, even though Vietnam has not yet caught up with the best and exact ways in export of goods, it is paving the way for strong trade in the future.
Legal framework sought for Vietnam's biopharma sector
While players are betting much more on the high growth potential in Vietnam's biopharma sector, they are still struggling to move ahead because of legal holes that prevent strong international partnerships.
Le Van Son, chairman of the Vietnam Pharmaceutical Corporation (Vinapharm), is expecting a supporting legal framework with concrete enforcement tools to enable the development of the pharmaceutical industry.
The Ministry of Health holds 65 per cent of the controlling shares in Vinapharm. It now consists of 23 member companies, 18 of which are engaged in pharma production and five of which operate in distribution.
Similarly, Imexpharm Pharmaceutical JSC, Vietnam's fourth-biggest pharmaceutical firm, is interested in joining with international groups in the global chain of clinical trials and distribution of new biopharma products and others.
Le Van Nha Phuong, deputy general director of Imexpharm, said, "Domestic pharma firms like Imexpharm hope to cooperate with multinational corporations that are members of the European Chamber of Commerce in Vietnam's Pharma Group in the development path."
According to participants at the roundtable, Vietnam has already shown in other areas that it can succeed in global competition. These are the foundations for success, even in such a competitive and fast-growing sector as biopharma. They, however, said that Vietnam needs more than just these fundamental elements to succeed globally – it needs the right strategy.
In 2017, Decision No.553/QD-TTg approved the master plan for bio-industry development up to 2030. With regard to medicine and pharmacy, the decision covers vaccines, biological drugs, antibody products for the treatment of human diseases, and more.
The objectives of the plan include speeding up the construction and development of biotechnology in different industries and fields, giving priority to agricultural, medical and pharmaceutical products, industry and trade by 2025, and increasing the number of bio-industry companies by 20 per cent so that the bio-industry contributes to at least 5 per cent of GDP.
In Vietnam, most pharmaceutical manufacturers are now using chemical technology. Therefore, the competition among the companies in this field is significant, including fierce competition on price.
Meanwhile, research into the production and collection of active ingredients from the extraction of animals, plants, or microorganisms, known as biopharmaceuticals, has not really taken off yet in Vietnam.
Source: VNA/SGT/VNS/VOV/Dtinews/SGGP/VGP/Hanoitimes
Cap Expand Partners sharing news from:
vietnamnet.vn