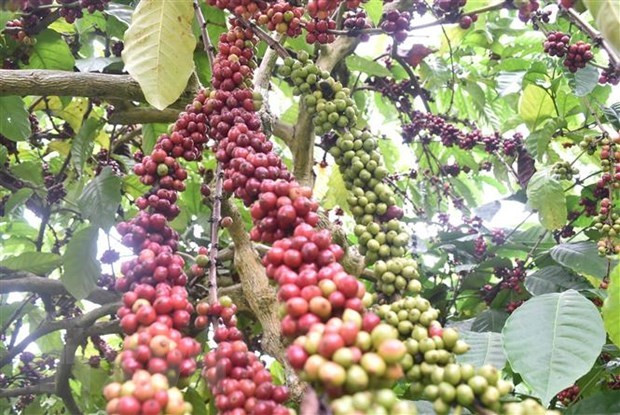 Vietnam's coffee has been shipped to more than 80 countries and territories, making the country the second biggest exporter in the world, with a market share of 14.2%.
Vietnam exported 112,531 tonnes of coffee worth 266 million USD in August, down 4% in volume but up 13% in value, reported the General Department of Vietnam Customs.
On an eight-month calculation, Vietnam brought home 2.8 billion USD from exporting 1.2 million tonnes of coffee, up 40% in value and 11% in volume year-on-year, respectively.
Coffee is one of the six key currency earners with an annual revenue of over 3 billion USD. Its major markets are Europe, the US, Russia, Japan and the UK. In Europe, Vietnam is the second biggest coffee supplier with a market share of 16.1%, behind Brazil with 22.2%.
At present, Vietnam is home to 97 coffee bean processing plants with an annual capacity of 1.5 million tonnes, 160 coffee roasting, 8 instant coffee and 11 coffee blending facilities.
Ministry proposes fee reductions to support transport sector
The Ministry of Finance (MoF) is drafting a proposal to reduce fees by 20 to 50% for four transport types to help the sector recover.
Specifically, the MoF proposed reducing tonnage fees for ships and boats involved in domestic maritime activities, maritime security fees and fees for entering and leaving seaports by 20% each.
For airlines, it proposed a 20% reduction in the charge for assessment and issuance of certificates, permits and certificates in civil aviation activities. The cost to issue permits to enter and exit restricted areas at airports and airfields would also be cut by 20%.
It also asked for a 50% reduction in the fee for using railway infrastructure and a 50% cut on inland waterway reporting fees and 50% on inland waterway port entry and exit fees.
MoF said the reduction period for the above will last for three months from October until the end of December 2022.
It was estimated that the reduction would cost 55 billion VND.
According to MoF, the structure of the draft circular and the fee reduction was similar to Circular No. 120/2021/TT-BTC, which stipulates the reduction of 37 fees and charges to support those affected by the COVID-19 pandemic in the first six months of 2022.
Bright outlook for economy despite challenges
Vietnam's economy has a positive outlook for 2022 despite the emergence of Omicron sub-variants, global geopolitical tensions and mounting input costs, according to Nguyen Quoc Viet, deputy head of the Vietnam Institute for Economic and Policy Research.
Viet said inflationary pressures have begun to build up but the situation is under control so far. Eight-month Consumer Price Index (CPI) rose by just 2.58% year-on-year, well under the target of 4%.
GDP growth hit 7.7% in Q2, the highest quarterly growth in ten years. Eight-month Index of Industrial Production was 15.7% higher than the same period in 2021.
Exports fared quite well amid the global trade downturn with an eight-month revenue of 250.8 billion USD, up 17.3% year-on-year. Of which, textiles are expected to keep riding high in the rest of 2022 thanks to free trade agreements.
He opined that the inflationary pressures would abate should global food and fuel prices cool down and supply chain disruptions improve in the short term. He forecast Vietnam's inflation would stay at around 3.3 and 3.8% this year.
Can Van Luc, chief economist of the BIDV, suggested the use of the Producer Price Index and Core Inflation in addition to CPI to trace the real causes of inflation, which could be cost-push or monetary.
He said inflation in Vietnam has not reached its peak due to time lags and forecast that inflation would rise further towards year-end.
Regarding weights assigned to items in the CPI basket, he said the weights are adjusted in every five years. For example, the weight of foods is 33.6% currently, against the previous weight of 36%.
He also opined that the Government has done quite well in curbing inflation via fuel price stabilisation and food supply control.
The two measures were highly effective against rising prices because transportation costs, food prices and construction material prices made up 90% of the rise in CPI.
Economic expert Vu Dinh Anh asserted that Vietnam put macro-economic stability at the top of the agenda. Fast economic growth at the cost of stability is never an option.
The expert is all for higher caps on credit growth. He underscored credit growth caps as an administrative tool to raise total credits, which, he believed, is safer than market-based tools in term of systematic stability.
He also said the tool could facilitate banking system's restructuring by giving higher credit quotas to healthy banks and lower credit quotas to less healthy ones, thereby encouraging sector competition.
Khanh Hoa, Russia's St. Petersburg eye to boost IT, tourism cooperation
An online business forum to promote information technology and tourism cooperation between the central province of Khanh Hoan and Russia's St. Petersburg city and their enterprises has been held recently.
During the forum, representatives of the two sides' businesses met to promote the beauty of country and people of  Khanh Hoa and St. Petersburg, aiming to seek partners and expand business cooperation.
The forum was one of the activities to celebrate 15 years of signing of an cooperation agreement between Khanh Hoa and St. Petersburg (September 10, 2007 – 2022), contributing to strengthening the Vietnam-Russia comprehensive strategic partnership.
Armenia seeks to expand cooperation with Vietnam
Vietnam is an important and reliable partner and Armenia always attaches importance to expanding cooperation with the country, Armenian President Vahagn Khachaturyan told Vietnamese Ambassador Dang Minh Khoi on September 16.
Highlighting the good traditional friendship inherited from the Soviet era, the President expressed his strong impression of Vietnam's miraculous economic development after more than 35 years of Doi Moi (Renewal) process as well as appreciated the role and prestige of Vietnam in the international arena. 
The Armenian leader believed that the ambassador will effectively promote the friendship and cooperation between the two countries.
As Ambassador to Russia and Armenia, Khoi briefed his host on some achievements Vietnam has made in recent years, especially in economy, trade, investment and tourism. 
After presenting his credentials to the President, the Vietnamese diplomat had working sessions with Armenian Economic Minister Vahan Kerobyan and National Assembly Vice President Hakob Arshakyan. The two sides discussed issues of mutual concern and agreed to strengthen economic-trade-investment cooperation to match the good traditional relationship between the two countries.
Earlier, on September 15, the ambassador met with Mnatsakan Sararyan, Deputy Minister of Foreign Affairs of Armenia, to talk about measures to enhance relations and jointly carry out external relations between the two sides.
Vietnamese Goods Week underway in Thailand
A Vietnamese Goods Week entitled "Taste of Vietnam" is taking place at Big C supermarket chain in Bangkok, Thailand until September 28.
The event, which kicked off on September 15, is jointly organised by the Vietnamese Embassy in Thailand and Berli Junker Public Company (BJC).
Vietnamese Ambassador to Thailand Phan Chi Thanh spoke highly of the efforts of Thai and Vietnamese companies to promote the export of Vietnamese products to Thailand, saying it helps to realize the bilateral trade target of 25 billion USD by 2025 as committed by leaders of the two countries.
For his part, Aswin Techajareonvikul, General Director and President of BJC, spoke highly of the quality of Vietnam's products, especially agricultural and food products. According to him, some Vietnamese dishes such as pho (noodle soup) and bun cha (rice vermicelli with grilled pork and fresh herbs) are becoming more and more popular among Thai people.
He proposed the Vietnamese Embassy in Thailand facilitate expansion of cooperation between BJC and Vietnamese companies.
More efforts needed to remove EC fisheries warning
Although the Ministry of Agriculture and Rural Development (MARD) and the fisheries sector have strived to adjust their management over the fishing activities by fishermen in a bid to remove the "yellow card" warning imposed by the European Commission (EC) over illegal, unreported and unregulated (IUU) fishing, more efforts are still needed, according to insiders.
Nguyen Quang Hung, deputy director general of the Vietnam Directorate of Fisheries (VDF) under MARD, said an EC delegation will visit Vietnam again this October to review the country's measures against IUU fishing. The inspection will focus on four matters, namely regulatory framework, management of fishing boats, traceability of seafood products from point-of-catch to point-of-sale, and penalties for violations, he said, adding that the checks will be conducted directly at fishing ports.
Earlier, the EC conducted two inspections on the issue in May 2018 and November 2019.
Hung pointed out some of the limitations that need addressing, including a lack of funding to renovate downgrading fishing ports as well as providing them with the necessary equipment and supervisory personnel. Many fishermen also failed to install GPS trackers or turn the devices on during offshore operations.
The VDF will convene a meeting with the National Steering Committee on IUU Fishing Prevention and Control to settle these issues, he added.
Nguyen Van Phong, vice chairman of the People's Committee of the south-central coastal province of Binh Thuan, said the local Department of Agriculture and Rural Development has been assigned to coordinate with other agencies and authorities to install GPS trackers on boats by the third quarter of this year.
Similar action is taking place in the Mekong Delta province of Tra Vinh to prevent IUU fishing.
Tra Vinh has stepped up inspection and examination of the exploitation and protection of fishery resources. Since the year's beginning, authorities have examined 179 vessels and fined 16 cases with nearly 190 million VND (8,100 USD) for administrative violations.
Banks race to increase charter capital
The race to increase charter capital in the banking sector continues to heat up with a series of banks announcing their capital increase plans.
The Vietnam Maritime Commercial Joint Stock Bank (MSB) has just been approved by the State Bank of Vietnam (SBV) to raise its charter capital by 30 percent by issuing a maximum of 458.25 million shares. After the share issuance, MSB's charter capital will increase by 4,725 billion VND from the current level of 15,275 billion VND.
MSB said that the increase in capital helps the bank improve its financial capacity, expand the scale of operation, and invest heavily in strategic projects, especially digital transformation.
The National Citizen Bank (NCB) also announced that it had been allowed by the SBV to increase its charter capital to 5.6 trillion VND. Meanwhile, the Vietnam Export Import Bank (Eximbank) plans to issue 245.9 million shares to pay dividends at a rate of 20% from undistributed profits. Eximbank's charter capital after the share issuance is expected to increase by 2,459 billion VND to more than 14,814 billion VND.
In August 2022, the Military Commercial Joint Stock Bank (MB) announced the issuance of 755.6 million shares to pay the 2022 dividends at a rate of 20%, increasing its charter capital by 7,556 billion VND to over 45,339 billion VND.
The Vietnam Prosperity Commercial Joint Stock Bank (VPBank) also intends to increase its charter capital by a maximum of 22,377 billion VND to 67,434 billion VND, becoming the bank with the largest charter capital in the system.
The Saigon – Hanoi Commercial Joint Stock Bank (SHB) said it will submit to the State Bank of Vietnam a plan to raise its charter capital from 26,674 billion VND to 36,459 billion VND in 2022.
The Ho Chi Minh City Housing Development Commercial Joint Stock Bank (HDBank) was approved to raise its charter capital by a maximum of 5,030 billion VND to 25,303 billion VND, through the issuance of more than 503 million shares to pay dividends in 2021 with a rate of 25%.
Also in the list of banks with capital increase are Nam A Bank, Kienlongbank, Techcombank, OCB, ACB, SeAbBank and Viet Capital Bank.
Among the "Big 4", the Bank for Investment and Development of Vietnam (BIDV) plans to increase its charter capital by 10,623 billion VND to 61,208 billion VND; the Joint Stock Commercial Bank for Foreign Trade of Vietnam (Vietcombank) by nearly 8,566 billion VND to 55,891 billion VND; and the Vietnam Joint Stock Commercial Bank for Industry and Trade (VietinBank) by 5,694 billion VND to 53,751 billion VND.
According to the banks' announced plans, it is expected that 22 banks will increase their charter capital this year, with a total value of about 154 trillion VND (6.5 billion USD), the highest ever so far.
First official batch of durians exported to China on September 17
An initial shipment of 20 containers of durian were exported to China via official channels on September 17, according to the authorities of Dak Lak province.
The move comes following the signing of the protocol between the Ministry of Agriculture and Rural Development of Vietnam and the General Administration of Customs of China (GACC) over two months ago.
Ngo Tuong Vy, deputy general director of Chanh Thu Fruit Import-Export Co., Ltd., one of the official durian exporters to China, revealed that the unit has exported three containers of 18 tonnes each on September 17.
This comes after four years of negotiations with China, with the recently signed protocol between the Ministry of Agriculture and Rural Development of Vietnam and the GACC allowing official exports of local durian to the Chinese market.
Industrial real estate likely to pick up in remaining months
The industrial real estate sector will likely continue to pick up in the remaining months of the year thanks to the ongoing global supply chain disruption and diversification, and the trade deals that Vietnam has signed, experts said.
Energy price uncertainty due to geopolitical issues and concerns on economic growth, China's persistence in pursuing a zero COVID-19 policy coupled with a global trade slowdown have been fueling the disruption and diversification, they added.
In Vietnam, industrial real estate leasing has seen a hike in demand and rental prices, especially for logistics and warehousing.
According to CBRE Vietnam, a commercial real estate services and investment firm, in the third quarter, its industrial leasing enquiries are improving in both quantity and sizes. Land acquisition enjoyed 10% year-on-year growth so far this year and 7% growth for ready-built factories/warehouses.
The average size required by tenants of all CBRE's enquiries was 9.4 ha in the first half of 2022 compared to 9.2 ha last year for land and 6,700 sq.m in the first half compared with 6,100 sq.m in 2021 for ready-built factories/warehouses.
Vietnam continues to be an appealing destination for industrial real estate investors, according to global real estate services firm Cushman and Wakefield.
It attributed this to the country's stable growth rate, an export-oriented economy, a rise in free trade agreements, a young labour force, investment incentives and strategic location.
With favourable government incentives, competitive labour costs, a stable political environment, a positive economic outlook and free trade agreements, the Southeast Asian country has become popular for foreign investors moving out of China.
To seize this opportunity, the north-eastern province of Quang Ninh has emerged as a vibrant industrial property market as the province is transforming its rural tourism-based economy and industrialising to attract foreign investment.
Speaking at a recent conference to promote investment in Quang Ninh, Chau Thanh Hung, deputy head of the Quang Ninh Economic Zone Authority, said the province has a strategic geographical location as a gateway connecting China and Southeast Asia.
It has extensive transport infrastructure with an international airport, seaports, the Mong Cai international border gate and modern facilities.
It is home to major economic zones such as Quang Yen, Van Don and Mong Cai and 15 industrial parks (IPs).
Hung said the province was developing seaport-IP complexes starting with the Bac Tien Phong Industrial Zone and Nam Tien Phong Industrial Zone in the Quang Yen Coastal Economic Zone.
These port-IP eco-systems would help reduce logistics costs for manufacturers.
It just issued investment licences to Indochina Kajima Development for its 23.9 million USD Core5 Quang Ninh ready-built factory project.
As of the end of June, it had 150 foreign direct investment (FDI) projects worth 8.26 billion USD by investors from 20 countries and territories.
Vietnam lured more than 14 billion USD of FDI in the first half, of which the Northern region attracted 6.7 billion USD, slightly higher than the Southern region with 6.5 billion USD.
The Northern region currently has about 63,500 ha of planned land for 238 industrial zones and clusters which are operational or in the process of site clearance and construction, according to a report by the Ministry of Industry and Trade.
Disbursement kick to offer safety net for businesses
Implementation of the national fiscal and monetary initiative has seen a quicker step forward, making it more favourable for enterprises and people to relieve their difficulties.
Prime Minister Pham Minh Chinh last week urged ministries, authorised agencies, and localities to soon quicken the deployment of the government's Resolution No.11/NQ-CP dated January 30 on the country's Programme on Socioeconomic Recovery and Development (PSRD) for 2022-2023 and the National Assembly's (NA) Resolution No.43/2022/QH15 dated January 11 on a fiscal and monetary policy worth $15 billion to support the PSRD.
Many enterprises and people are in need of more support from the programme, so disbursement must be sped up effectively, the PM said.
Minister of Planning and Investment Nguyen Chi Dung told the government last week that efforts were being made to carry out Resolution 11 nationwide. Disbursement of spending under the programme hit $2.41 billion in early September, with financing going into a range of areas.
These included $438 million for concessional loans via Vietnam Bank for Social Policies; $132.4 million for housing rental support for nearly 4.54 million workers; $587,000 for a 2 per cent bank lending rate; $1.52 billion for a reduction of VAT and environmental protection tax for aviation fuel; and $321.74 million to extend the tax payment and land rental deadlines until June.
Additionally, $2.26 billion was used for an extension of assorted taxes and land rentals.
Land assets failing to shift despite cuts
The lack of related legal conditions, unclear information, and inappropriate prices are some of the problems that are rendering real estate units offered by banks unattractive to buyers.
Banks have been increasing their asset quality by provisioning and speeding up the handling of collateral to recover debts. Along with this, a series of houses, apartments, and other projects have been put up for sale.
In Thu Duc city, Agribank is selling four properties with a total area of nearly 1,800 square metres in Phu Huu ward, starting from $3 million. These are also villas owned by an individual but used as collateral for loans arising at Agribank Saigon Branch.
Sacombank is liquidating a series of real estate projects in districts 5, 10, 11, and 12, as well as in Binh Thanh district and Nha Be district of Ho Chi Minh City.
The most valuable asset among these is a land lot of 1,774sq.m in District 5, owned by an individual and used as collateral for a loan at the bank. However, due to the land buyer's inability to pay the debt, Sacombank sold this debt to Vietnam Asset Management Company. Sacombank offers a starting price for this land lot of up to $23 million.
In Nha Be district, Sacombank is also selling a land plot and an attached factory with an area of nearly 60ha at Hiep Phuoc Industrial Zone (IZ). The land, for developing an IZ, has a starting price offered by Sacombank of $21.7 million.
And in June, Agribank offered six properties for sale in Da Kao ward in Ho Chi Minh City's District 1 with a total area of nearly 2,000sq.m, starting at $12.2 million. These are all old villas with an area ranging from 290 to 360sq.m located on Tran Cao Van street.
Despite remarkably lowering the offered price many times during the past three years, two asset packages of Thuan Thao JSC in Tuy Hoa of the central province of Phu Yen remain unsold.
The first package includes the 5-star CenDeluxe Hotel, Thuan Thao Exhibition and Convention Centre with a total value of more than $21 million, and a Thuan Thao land plot worth $2.7 million. The second package is Thuan Thao Entertainment and Ecological Centre with a value of more than $5.1 million. The packages have been put up for auction 15 and 17 times respectively, but both remain unsold.
Explaining the reason why many projects could not be sold, Nguyen Van Dinh, vice president of the Vietnam Association for Realtors, said that liquidating assets is mostly not attractive for individual buyers. They meanwhile must think twice about the legal factors of such assets to avoid problems that may arise after the purchase. "In addition, many collateral assets were valued at higher prices than their actual value; therefore, when liquidating, banks often tend to set a price according to the value of the debt but not the market price," Dinh said.
The demand for liquidated real estate is high, even for large-scale real estate projects, but in order to match the supply and demand, the property for sale needs to be ensured legally and conveniently in the transfer process. The most important factor is to evaluate the asset at the right price, according to Dinh.
According to a statement released in September by Vietcombank Securities, the quiet business and strong price fluctuations of the real estate market recently may negatively affect bad debt recovery activities of banks as real estate is the main collateral for loans.
However, the extension of Resolution No.42/2017/QH14 from August 15 until the end of 2023 is a good signal to help banks speed up the process of handling outstanding bad debts and maintain a bad debt ratio on the balance sheet below 2 per cent.
Fixing land use rights for foreigners
Adding the provision that foreign individuals would be allowed to use residential land in Vietnam to the revised Law on Land could ensure uniformity and better consistency in the country's current legal system.
In order to ensure the consistency and synchronisation of the legal system, experts say it is necessary to amend the current Law on Land, while adding that foreign individuals who are allowed to own houses in Vietnam according to the Law on Housing can also have ownership as set out in the Law on Land.
Last week, the amended draft of the Law on Land was put onto the Vietnamese government's agenda in a special session on law-making chaired by Prime Minister Pham Minh Chinh.
One of the issues that government members are interested in discussing in terms of this issue is the rights of foreigners related to land in Vietnam.
Specifically, Article 159 of the Law on Housing stipulates that foreign organisations and individuals are among the those currently entitled to own houses in Vietnam. Clause 2, Article 14 of the Law on Real Estate Business stipulates that overseas Vietnamese, foreign organisations, and also individuals may rent all types of real estate properties for their own use, as well as purchase or rent houses in accordance with the Law on Housing.
However, Article 5 of the current Law on Land only stipulates that foreign organisations are allowed to implement housing projects in Vietnam, with no mention of foreign individuals being allowed to own residential land in Vietnam.
On the other hand, in a proposal to compile the revised Law on Housing, which is expected to be passed at around the same time as the revised Law on Land, the Ministry of Construction proposed to focus on solving several major groups of policies related to housing ownership.
But the policy of encouraging individuals from other countries to purchase houses will not be fully implemented without first solving the issue of ownership.
After being examined by the National Assembly Economic Committee, and after a range of opinions have been collected from the National Assembly Standing Committee delegates, the amended draft is expected to be submitted to the National Assembly in October during its fourth session.
Source: VNA/SGT/VNS/VOV/Dtinews/SGGP/VGP/Hanoitimes
Cap Expand Partners sharing news from:
vietnamnet.vn